Private Las Vegas City Tour
Private Las Vegas City Tour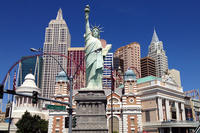 only 719.99$ book now, book here, get extra bonus
This private city tour is designed for your small group or party and can be custom made or combined with other main attractions. 
We have two different city tours. Day city tour. Places visited, Las Vegas Welcome sigh, Luxor, Bellagio and Freemont. But we can arrange with the client a different place to visit if they wish, as long as we stay on the time frame of the tour. The second one is the night tour. Places visited: Las Vegas Welcome sign, water show of the Bellagio or Volcano at the Mirage, It depends on the stay time on the locations before. After we go down the strip with our tour guide talking about the history and facts about Las Vegas until we get to Freemont Street which we will see its show, Freemont Expirience, we stay there around 30 to 40 minutes and then we go back to the hotel. We do have tour guides in English, Spanish and Portuguese, these last two is under request and might cost extra. Tours can start from 8:00 am to 6:30 pm
This private city tour is designed for your small group or party and can be custom made or combined with other main attractions. 
We have two different city tours. Day city tour. Places visited, Las Vegas Welcome sigh, Luxor, Bellagio and Freemont. But we can arrange with the client a different place to visit if they wish, as long as we stay on the time frame of the tour. The second one is the night tour. Places visited: Las Vegas Welcome sign, water show of the Bellagio or Volcano at the Mirage, It depends on the stay time on the locations before. After we go down the strip with our tour guide talking about the history and facts about Las Vegas until we get to Freemont Street which we will see its show, Freemont Expirience, we stay there around 30 to 40 minutes and then we go back to the hotel. We do have tour guides in English, Spanish and Portuguese, these last two is under request and might cost extra. Tours can start from 8:00 am to 6:30 pm
Tour and explore Las Vegas on this 4-hour private tour.
After pickup from your Las Vegas hotel, you'll be taken to the famous "Welcome to Las Vegas" sign for a photo opportunity. From there you will take a leisurely ride down Las Vegas Boulevard where you'll listen to expert commentary and learn the history about Las Vegas.
As you make your way to the north end of The Strip you'll make a visit to Downtown Las Vegas and Fremont Experience to see where it all began.
If you have other points of interest that you would like to see you, please advise at the time of booking so your guide can incorporate it into your itinerary.
How to book:
Tours are available for groups of 14-, 24- or 27-passengers. Pricing is based per group, please book for one (1) passenger and select the passenger option at the time of booking.
only 719.99$ get it now