Defending the Caveman at the D Las Vegas
Defending the Caveman at the D Las Vegas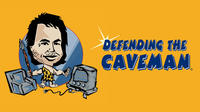 only 29.99$ book now, book here, get extra bonus
Don't miss Rob Becker's sidesplitting comedy about the battle of the sexes, Defending the Caveman, at the D Las Vegas. Hailed by critiques and fans as a tour de force, this updated version of Caveman takes a hilarious anthropological look on the gender differences that will have you and your date laughing and nudging each other throughout the entire show. Spend the evening seeing one of America's most famous live shows, as you catch a hilarious glimpse of what's so funny about contemporary relationships
Don't miss Rob Becker's sidesplitting comedy about the battle of the sexes, Defending the Caveman, at the D Las Vegas. Hailed by critiques and fans as a tour de force, this updated version of Caveman takes a hilarious anthropological look on the gender differences that will have you and your date laughing and nudging each other throughout the entire show. Spend the evening seeing one of America's most famous live shows, as you catch a hilarious glimpse of what's so funny about contemporary relationships
Brace yourself for the boisterous and hilarious battle-of-the-sexes play Defending the Caveman at the D Las Vegas. The longest-running solo play in Las Vegas history explores the hysterical situations men and women find themselves in. The good-humored commentary on contemporary relationships and gender differences will have you and your date in stitches the entire time.
During the blockbuster comedy, you'll find yourself laughing at everyday situations you've probably encountered in your own relationships.
But don't think it's just a joke, as Rob Becker wrote Defending the Caveman over a three-year period while studying psychology, sociology and prehistory to shape the script into the success that it's become. After opening in San Francisco in 1991, it soon swept the country as the nation's favorite live comedy. Now you can see it at the Showroom at the D Las Vegas
Special Offer – Price displayed includes a 42% discount off the local admission price! – Book Now!
only 29.99$ get it now