David Goldrake Imaginarium at the Tropicana Hotel and Casino
David Goldrake Imaginarium at the Tropicana Hotel and Casino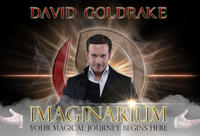 only 45.99$ book now, book here, get extra bonus
Come see award winning grand illusionist David Goldrake unveil his Las Vegas residency at Tropicana Hotel and Casino in Las Vegas. David Goldrake has developed this illustrious show with the best creators in the field of magic and entertainment, and will take you to a place that will shatter your perception of reality
Come see award winning grand illusionist David Goldrake unveil his Las Vegas residency at Tropicana Hotel and Casino in Las Vegas. David Goldrake has developed this illustrious show with the best creators in the field of magic and entertainment, and will take you to a place that will shatter your perception of reality
The magician, known as "The International Man of Mystery", will take his guests on a journey through a surreal place that lies somewhere between the world we call our own and a breathtaking world full of dreams and fantasies. David Goldrake will inspire with original and spectacular illusions, innovative experiments of mentalism and daring demonstrations of escapology.
Stunning sound and lighting as well as a visionary stage design involving 3D video mapping transform the stage into the perfect setting for the magical world David Goldrake invites you to be a part of. Be sure to come see award winning grand illusionist David Goldrake unveil his Las Vegas residency at Tropicana Hotel and Casino in Las Vegas!
Special Offer – Book and save 25% compared to the local supplier's prices for general admission OR receive an upgrade to Preferred seating and save 37%! – Book Now!
only 45.99$ get it now